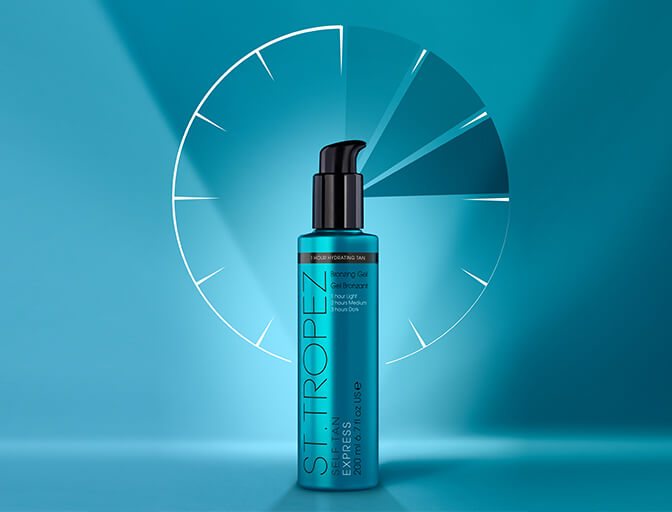 CUSTOMIZE YOUR GLOW
Made with a premium and 100% natural DHA blend, you can be confident of natural-looking results every time with our award-winning and bestselling range.

Develops over 4-8 hours but can be washed off after 1 hour
Perfect for fast results or those looking to find the right color to suit them
Best applied weekly with a mitt on clean skin
Infused with our signature fragrance for no fake tan smell
Michaella Bolder, St.Tropez Skin Finishing Expert says, "Express Gel has arrived! One of the St.Tropez top sellers just keeps getting better. The gel formula allows for a deeper tan, whilst gliding over the skin flawlessly - it's a tan lover's dream."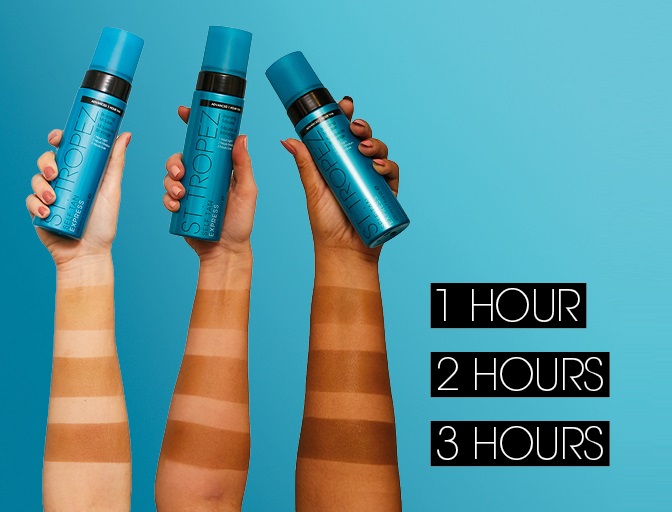 THE 3-IN-1 TAN
Whether you want to look like you've spent a weekend in Europe or 2 weeks in Bora Bora our Self Tan Express collection has advanced 3-in-1 technology to let you control your depth of tan.
Simply rinse off the fool-proof guide color after as little as 1 hour for a sunkissed glow, 2 hours for a medium tan or 3 hours for a deep, dark tan.
"Developing from light to deep over the course of three hours, this rapid-flash formula quickly bestows a warm, olive-toned glow (simply rinse after 60 swift minutes), and lends a luxe, two-weeks-in-Juan-les-Pins tan when its left for the maximum window." - Cult Beauty

LEARN HOW TO PERFECT YOUR GLOW
Transcript for How to Apply | St.Tropez Self Tan Express Bronzing Mousse Tan, transcript available