How to remove self tanner from the face
Step 1: Cleanse
We always recommend prepping the skin with an oil-free moisturizer and exfoliator before applying tan because oil repels self tan. Reverse engineer that thinking and the easiest way to remove self tanner from face becomes applying oil-based products.  
Cleansing twice a day with an oil-based cleanser will help to fade your tan.
Step 2: Exfoliate
As you no doubt know, exfoliating helps to remove tan and dead skin cells. So, to remove self tanner from the face, opt for a gently exfoliating acid or facial scrub.  
These are the key ingredients to look out for when finding the best exfoliator for your face: 
If using a chemical exfoliant, opt for Glycolic Acid, Vitamin C and Salicylic Acid

For a gentle facial scrub, any moisturizing formula containing ingredients like Jojoba, Cocoa Butter

,

 or Fruit Extracts is a great option

 
Repeat your exfoliating routine up to 3 times weekly to allow your golden glow to fade evenly. 
Top Tip: Exfoliating in circular motions boosts blood flow to the skin's surface, creating a fresh-faced radiance.
Step 3: Serum and moisturizer
Did you know that serum can promote cell renewal, causing tan to fade faster as new cells work to replace older tanned skin? Applying moisturizer twice a day to keep skin hydrated also promotes an even fade, an important step in removing self tanner.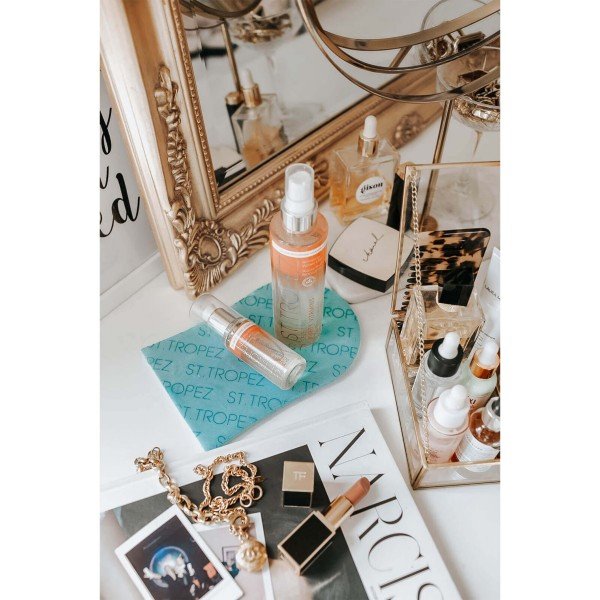 Find the best tan for your face
Once you've followed these steps to remove self tanner from the face, your skin is primed and ready to glow all over again. At St.Tropez, we have a variety of formulas to try, so you can find the best face tan for you.
A Bronzing Face Mist
In just one use of our St.Tropez Purity Bronzing Face Mist, you can achieve a natural-looking post-holiday glow. Easy-to-apply and lightweight, this Hibiscus Extract and Hyaluronic Acid-infused formula revives skin while creating a beautiful, light to medium bronze.