How to remove self tanner from palms
To avoid staining your hands, it's always best to apply self tanner to the body using a tanning mitt. However, if you do end up with darker palms, these top tips will help: 
Using our Tan Remover Mitt, gently 

exfoliate 

the palms to buff away the 

excess 

tan without 

disturbing the golden glow on the back. 

 

If the area still looks patchy, 

dispense one pump of 

our

 

Tan Remover Mousse

into your palms.

Close your hands in prayer, and rub them together

 up and down. 

 

Rinse after 5 minutes.

 
Top Tip: Just before applying self tanner, massage an oil-based moisturizer into your palms. This will prevent the fake tan from adhering to the skin.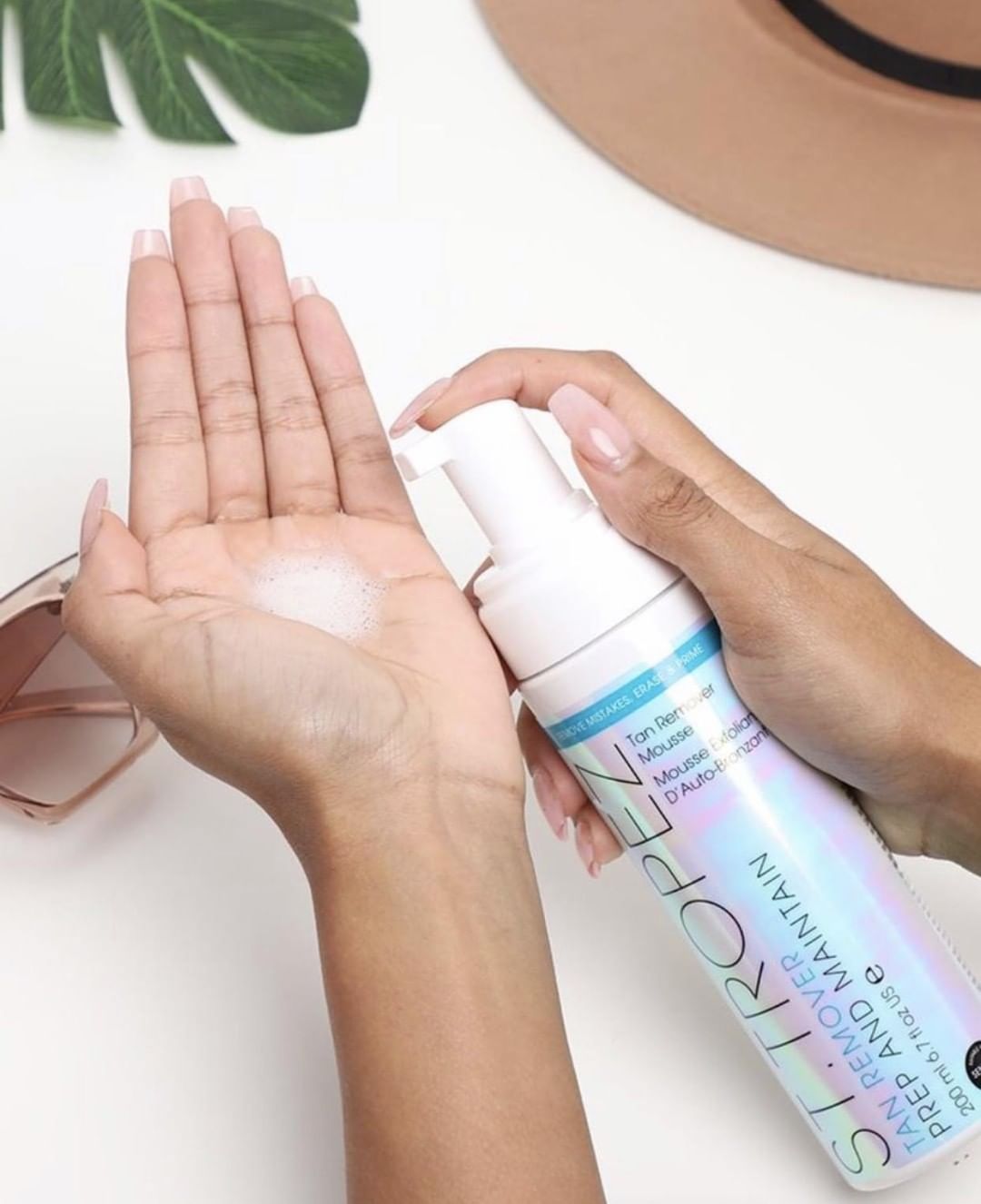 How to remove self tanner from feet
As any experienced glow getter will tell you, the feet are particularly tricky to get right. If the heels and ankles are dry or cracked, they can absorb excess tan and cause a patchy finish. Here's how to buff away this excess tan or remove it altogether: 
Gently massage our Tan Remover Mitt over the feet, ankles and heels to buff away the excess tan.

 

Or, massage

the 

Tan Removing Mousse

onto clean, dry feet,

focusing

 on dry ar

eas, like the heels,

 ankles and between 

the 

toes. 

 

Leave for 5 minutes.

 

Rinse in warm water.

 
How to remove self tanner from your face
Did you know that the skin on your face is up to 20 times thinner than the rest of your body? It's also more sensitive and naturally renews itself more quickly. That's why tanning and removing self tanner from your face is slightly different.  
Instead of using the tan remover mousse, reach for skin-specific exfoliating acids or scrubs and apply as directed to the skin. Repeat every 3 days to help your tan fade faster. 
The best self tan removers
When it comes to removing self tanner, these tanning tools should be your first choice:
St.Tropez Tan Remover
The quickest and easiest way to remove tan, the St.Tropez Tan Remover Mousse blends detoxifying cotton extract with probiotics to purify and rebalance the skin, effectively getting rid of all traces of tan in minutes. It's also suitable for sensitive skin.