Looking to achieve your ideal shade of sunkissed bronze quickly? You're in luck! It's never been easier to create the perfect glow than with the St.Tropez Express range. Whether you want to get your glow on in time for an evening out with friends or just for a quick confidence boost, we show you how to tan faster with these express self tanners.
Tan fast with express tanner
With the St.Tropez Self Tan Express Range, you can say goodbye to lying in the sun for hours on end, exposing your skin to harmful UV rays. All 3 textures in this collection create a gorgeous golden glow in as little as one hour. You just need to choose the right formula for you…
Use a lightweight tanning gel: With its fast acting and non-sticky formula, the St.Tropez Self Tan Express Advanced Bronzing Gel glides onto skin easily for a streak-free finish. Infused with hydrating Hyaluronic Acid, this express tanning gel provides a quick fix but with results that really last.  
Try a hydrating bronzing mousse: If you love the feeling of a velvety tanning mousse, then our Self Tan Express Advanced Bronzing Mousse is the best way to create a natural-looking glow in record-breaking time. Its formula boasts deeply hydrating, completely vegan and natural tanning active ingredients.
Try a fast-acting tanning spray: Any worries about achieving an even glow in hard to reach areas can be forgotten with our easy-to-use Self Tan Express Advanced Bronzing Mist. Simply apply the mist all over and buff into the skin using an Applicator Mitt. You'll never have to ask someone to bronze your back for you again! 
How To Tan Faster: A Step By Step Guide
So, now that you've chosen your favorite express self tanner, we can get down to the details of how to tan faster. 
Step 1: The prep
For the ultimate glow, use a Body Exfoliator 24 hours before applying self tanner to create the perfect smooth base for your tan. 
Then, 2 to 3 hours before tanning, treat your skin to a Tan Enhancing Body Moisturizer, paying particular attention to dry areas, such as knees, elbows and hands. 
Step 2: Use your express self tanner to tan quickly
Grab your Mitt and your chosen mousse, gel, or mist and apply. 
If using the express mousse or gel, pump onto the mitt and glide over freshly prepped skin for a streak-free finish.

 

If using the express mist, spray evenly all over the body. Then, buff into the skin with a mitt for a perfectly even glow.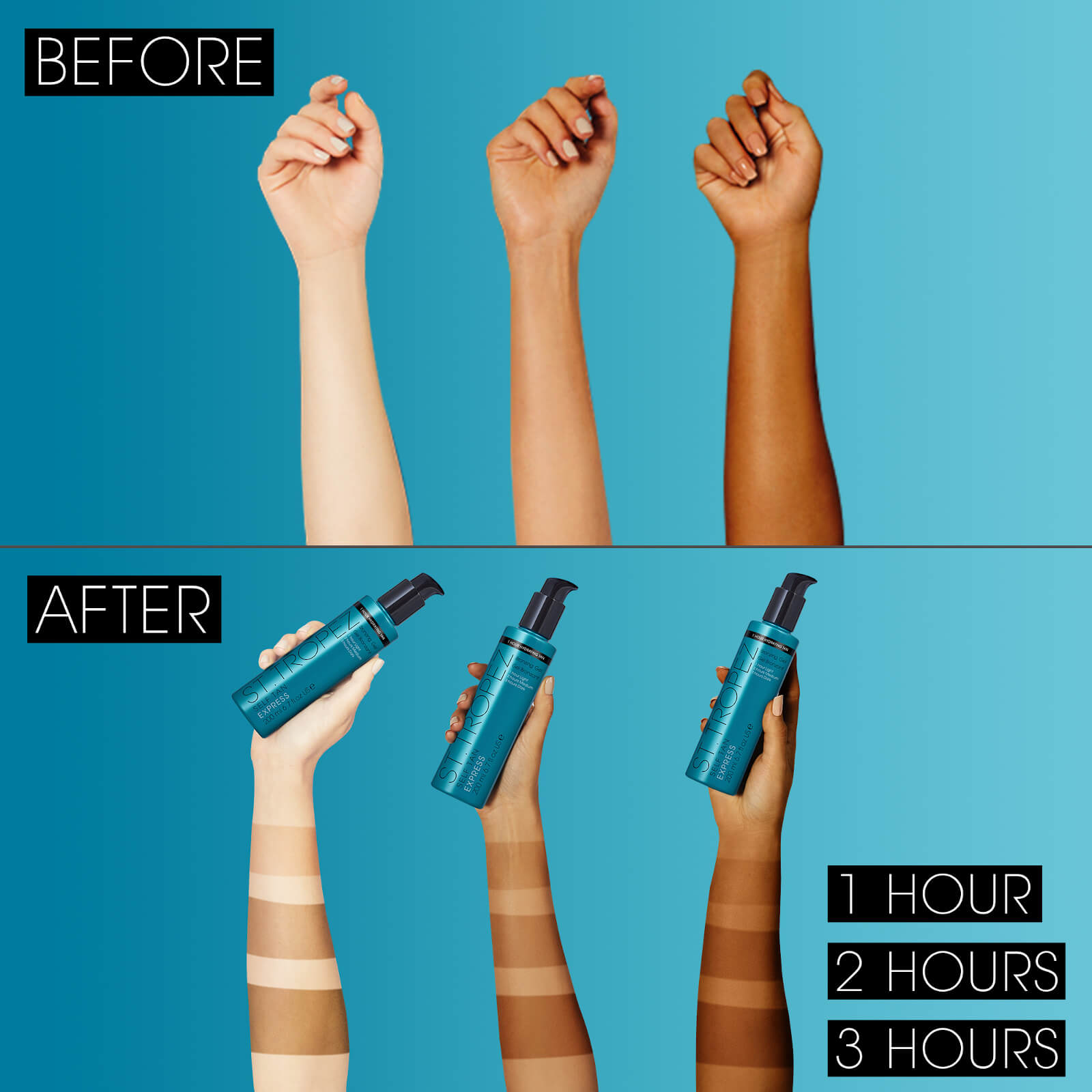 Step 3: rinse
This is the important part when it comes to how to tan faster: depending on whether you're after a light, medium, or dark toned bronze, leave your self tan on for 1, 2, or 3 hours before rinsing in the shower. 
Your golden glow will continue to develop over the next 8 hours, leaving skin looking sensationally sunkissed. 
Top tip: To keep your glow going for up to 3 days longer, we recommend moisturizing every day with a Tan Enhancing Body Moisturizer to keep skin feeling velvety smooth. 
And that's how to tan faster! Achieving a quick, easy and flawless tan has never been more straightforward than with the St.Tropez Express Tan Range. You set the tone, and in as little as 1 hour you'll be good to glow!