We all want to look golden and glowing this Summer, but it's important to always tan sensibly. Spending too much time in the sun can do more harm than good, so it's best to learn how to tan safely.  
Keep reading to discover our tips and tricks on how to get a tan safely, as we share the safest techniques so you can look bronzed and beautiful this Summer.
Why is it important to be careful in the sun?
You've probably been told from a young age that it's essential to wear sun cream and protect yourself from harmful UV rays, but what kind of damage do they cause? 
Sunburn
Not quite the summer glow we're going for. Not only can sunburn be painful, it can cause lasting skin damage and blistering. 
Premature signs of aging
Sun damage can affect the collagen and elastin levels in the skin, two essential proteins that maintain its youthful, healthy appearance. Excess UV exposure can also speed up the signs of aging, with wrinkles and sagging appearing prematurely. 
Hyperpigmentation and sun spots
Do you struggle with an uneven skin tone? Hyperpigmentation and sun spots are often caused by too much time spent in the sun, as the skin naturally produces excess melanin (the pigment that gives skin its color) to protect itself.
How to tan safely in the sun
If tanning in the sun is still something you want to do this Summer, make sure you follow our ultimate guide on how to tan safely.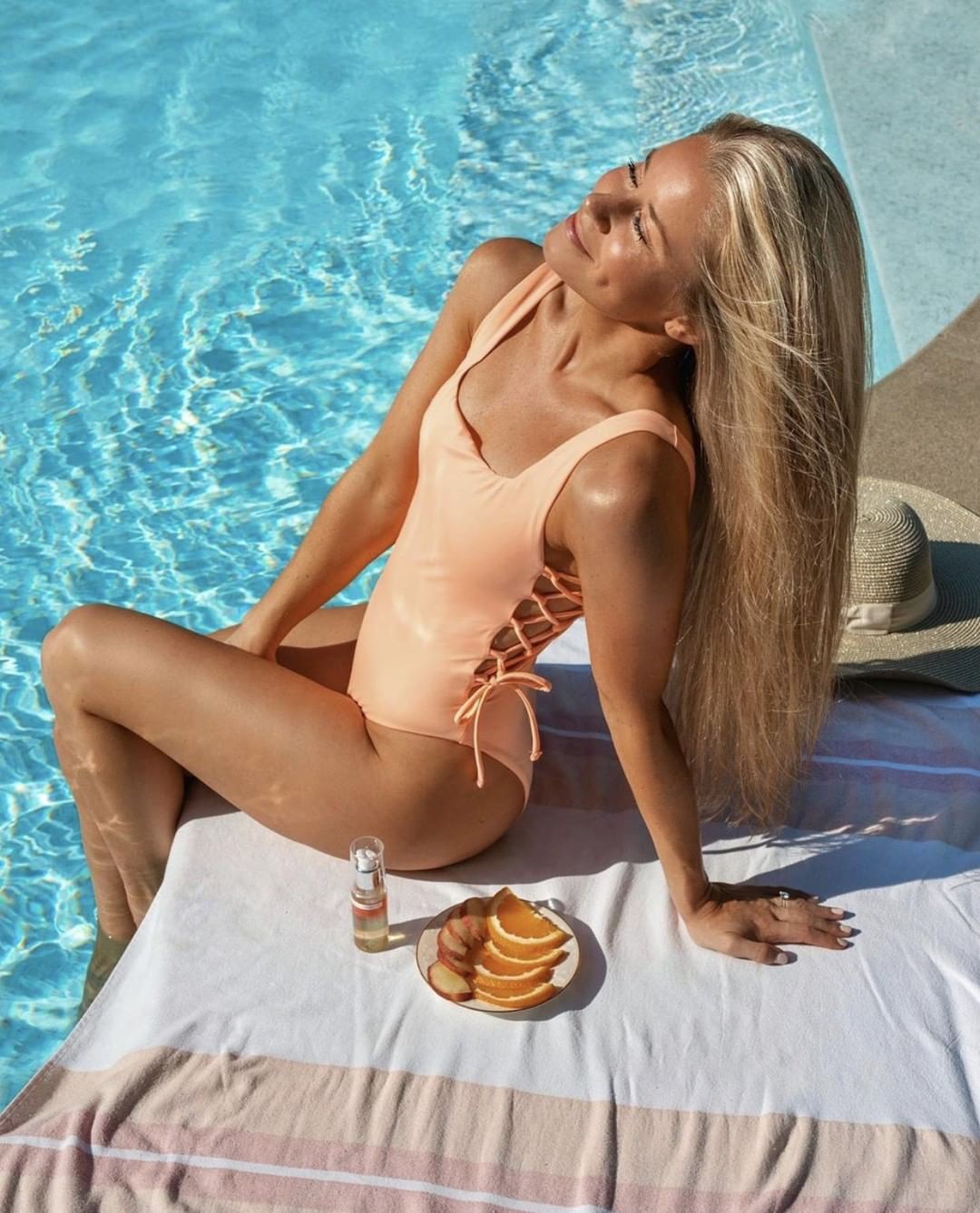 1. Apply sun cream
Did you know that you should wear sun cream all year round to protect skin from UV damage? A minimum of factor 30 should be applied to all exposed skin. Wait 15 minutes before heading outside to allow the sun cream to form a shield on the skin for maximum protection.  
Remember, if you're planning on taking a dip in the pool, wear a waterproof sun cream!
2. Keep your head in the shade
Not only will keeping your head in the shade reduce the likelihood of sun damage on the face and scalp (which, trust us, can be sore!), but it will also help avoid sun fatigue and heat exhaustion. 
Taking a nap in the sun sounds like a luxurious idea, but too much time in the intense heat won't do your body any good. If you start to feel dizzy, unwell or have a headache, sit in the shade to cool down as soon as possible.
3. Drink plenty of water
Staying hydrated is crucial all year round, but particularly in Summer. Not only will drinking water keep your body topped up with hydration, but it can also help calm sunburn, keep heat headaches at bay, and lend skin a naturally healthy, radiant glow.
Looking for an even safer method of tanning?
Tan safely with a self tanner
Want to know how to really tan safely? Try the St.Tropez Purity Vitamins range. Rich in the healthy vitamins we get from the sun (including Vitamins C and D) our self tanning spritz mimics the effects of sunbathing, without the risk of damage. 
The Self Tan Purity Vitamins Bronzing Water Body Mist is perfect for spritzing onto skin on hot Summer days. The hydrating Hyaluronic Acid and refreshing Green Mandarin Water keep skin cool and fresh, while providing a gorgeous medium golden tan. 
How to use
Prep 

the skin by exfoliating and moisturizing, focusing on particularly dry areas, such as elbows and knees.

 

Spritz 

the St.Tropez Purity Vitamin Body Mist all over, using a tanning mitt to make sure all areas are covered.

Glow! 

Allow the tan to develop for 4-8 hours. One application will offer a medium golden tan that can last up to a week. Top up when desired for a deep bronzed look. 

 

Don't forget the face! 

Apply our

Self Tan Purity Vitamins Bronzing Water Face Serum

 to the face to achieve the same gorgeous glowing complexion without blocking your pores. Pop our hydrating tanning serum directly onto the skin, or mix in with your usual moisturizer/SPF.