Calling all spray tan fanatics! At St.Tropez, we've got a whole collection of glow-giving tanning sprays, so that you can achieve the perfect at-home spray tan every time. From our skin-nourishing face mist to the best self tanning spray for an express glow, we've got an easy-to-use mist to suit every glow-getters needs. 
Why use a self tanning spray?
Simple to use, available in a variety of great formulas and quick-drying, tanning sprays and mists are the ultimate way to achieve a flawless spray tan at home. Thanks to their easy application spray nozzles, you can tan those hard-to-reach places, such as the back and shoulders, without having to call on a willing assistant. 
Tanning sprays are also a great way to fix any tanning mistakes and top up an existing glow. At St.Tropez, all of our self tanning sprays and mists are proudly 100% clean, vegan friendly and formulated with natural tanning actives.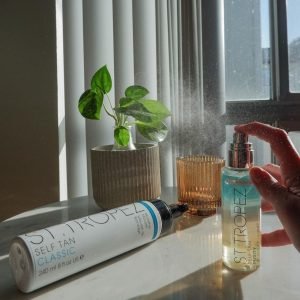 How to use tanning spray
Using a tanning spray couldn't be easier, and the method doesn't differ greatly from how you might apply your favourite mousse or lotion. 
Step 1: Prep
We've said it before, and we'll say it again: the best tans are made in the prep. Create a smooth base by exfoliating the day before your at-home spray tan, and moisturize dry areas, such as the knees, elbows, hands, and feet, a few hours before you tan.