Getting the correct dose of Vitamins C and D isn't always easy, particularly once summer has come to a close. However, as both are essential to maintaining healthy skin (and, may we add a healthy tan), it's important to keep infusing your skin with these vitamins throughout the colder months. But what does Vitamin C do for your skin? We're here to explain the skincare benefits of vitamins and how to reap these glow-giving benefits of Vitamin C and D with our Purity Vitamins Self Tan range.
What are the benefits of Vitamin C and D for skin?
If you're wondering whether a Vitamin C or D deficiency will affect the health of your skin, the short answer is yes. The benefits of Vitamin C and D for skin include: 
Repairing damaged skin cells

 

Preventing premature aging

 

Correcting hyperpigmentation
What does Vitamin C do for your skin?
So, what does Vitamin C do for your skin? As Vitamin C is highly acidic, applying it topically can trigger the skin to heal itself and accelerate the production of collagen. It is also an antioxidant, helping to repair damaged skin cells and encourage cell renewal. Antioxidants prevent the harmful effects of free radicals, offsetting damage caused by UV rays and air pollution. 
Top Tip: Fewer dead cells means fewer dry patches of skin to absorb excess fake tan, ensuring a patch-free and even-looking bronzed glow. 
The Vitamin C benefits for skin also include inhibiting melanin production, which is what causes skin discoloration, dark spots and hyperpigmentation. With continued topical use, Vitamin C can help to prevent dark spots from forming and brighten the skin. 
Top Tip: If your skin tone is uneven, your tan will look deeper in dark spots and lighter in discolored areas. Correcting hyperpigmentation is essential for a flawless, natural-looking tan.
What does Vitamin D do for your skin?
The Vitamin D skin benefits are also numerous. Like Vitamin C, Vitamin D is an antioxidant, with the ability to repair damaged cells and encourage new cell growth. This sunshine vitamin also helps to strengthen elastin. Together, elastin and collagen (production of which is accelerated by Vitamin C) maintain overall skin health, help to prevent premature aging and keep skin looking plump and firm. 
Top Tip: Plump, firm skin is easier to tan, as the products glide on effortlessly and don't settle into creases.
Why should I use Vitamin C and D-infused self tanners?
We'll admit, the Vitamin C and Vitamin D skin benefits are pretty impressive (the above is proof of that!). However, our main source of Vitamin D comes from the sun, which can have detrimental effects on your skin if you spend too long in it – sunburn, heat rash and premature aging. 
Therefore, we recommend using Vitamin C and D-infused self tanners to reap the skincare benefits of Vitamin C and D, without exposing yourself to harmful UV rays. They'll saturate your skin with these skin-loving ingredients and create a gorgeous I-spent-two-weeks-in-the-sunshine glow with zero risk of sun damage! 
Top Tip: Vitamin C and D-infused self tanners are particularly effective during the winter. You'll get your dose of vitamins and a beautiful winter tan even if the sun isn't shining.
What are the best Vitamin C and D-infused tanning products?
Our Purity Vitamins range is bursting with Vitamin C and D boosters known to brighten skin, protect from external aggressors and mimic the effects of the sun, without the harmful effects of UV rays.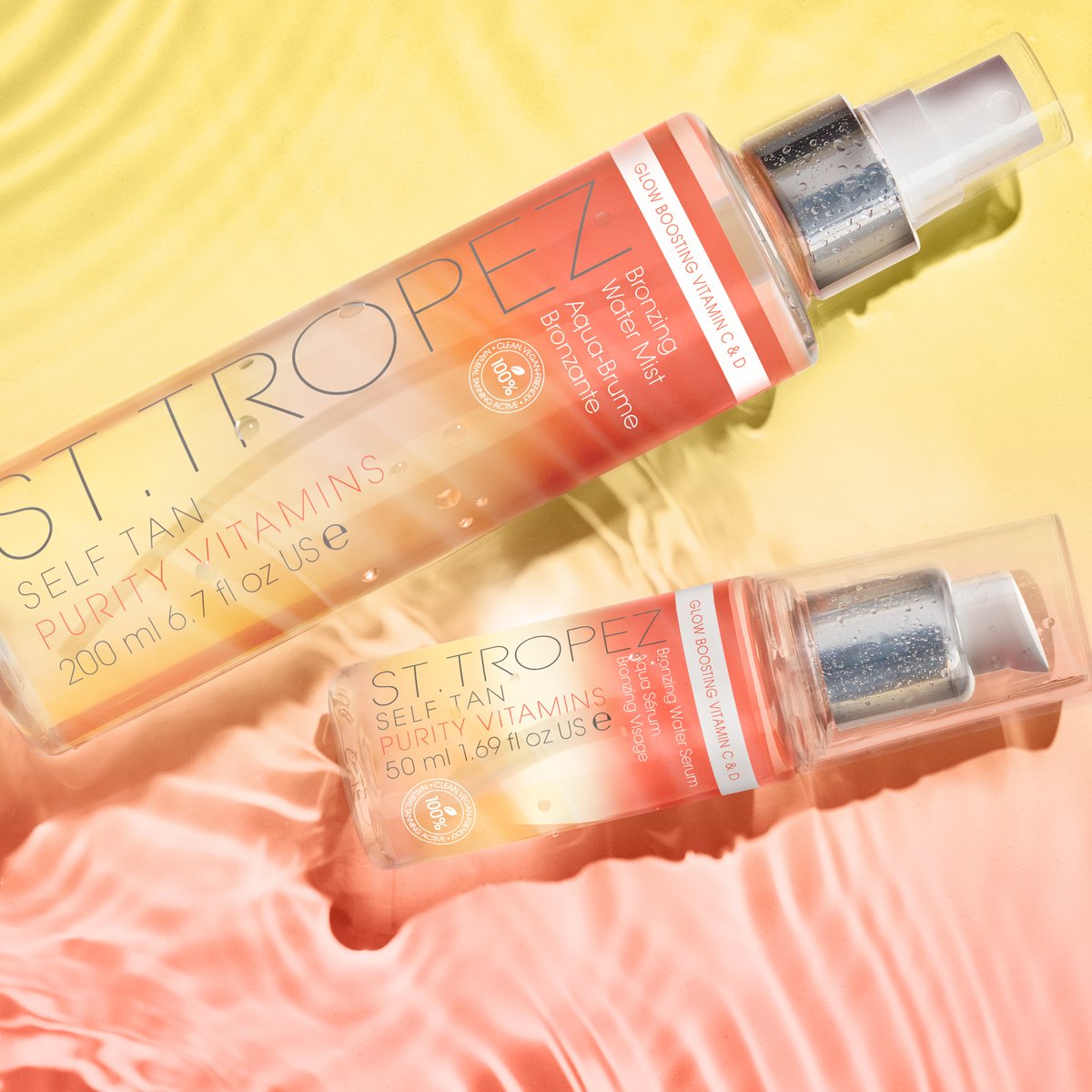 The collection features 2 fake tan essentials that boast impressive Vitamin C and Vitamin D skin benefits: 
Bronzing Water Body Mist

: Combining these Vitamin Boosters with hydrating 

Hyaluronic Acid

 and refreshing Green Mandarin Water, this fake tan creates a medium golden bronze in 4 to 8 hours. Simply spritz it onto your skin, blend it with our 

Applicator Mitt

, then admire your supercharged sunkissed glow.

 

Bronzing Water Face Serum

: Boasting the same Vitamin Boosters, Hyaluronic Acid, Peach Flower Extract and Green Mandarin Water, this serum gives your complexion a natural-looking, bronzed radiance. Mix a couple of drops into your moisturizer, then apply it directly onto your face, neck and decolletage. You'll achieve a glowing tan in 4 to 6 hours. It's our best face tan yet!

 
Top tip: Why not pick up all three of these tanning essentials at a great price with our Sunshine In A Bottle bundle? It includes the body mist, face serum and an Applicator Mitt so you're ready to glow, wherever you go!