Calling all spray tan fanatics! At St.Tropez, we've got a whole collection of glow-giving tanning sprays, so that you can achieve the perfect at-home spray tan every time. From our skin-nourishing face mist to the best self tanning spray for an express glow, we've got an easy-to-use mist to suit every glow-getters needs. 
Why use a self tanning spray?
Simple to use, available in a variety of great formulas and quick-drying, tanning sprays and mists are the ultimate way to achieve a flawless spray tan at home. Thanks to their easy application spray nozzles, you can tan those hard-to-reach places, such as the back and shoulders, without having to call on a willing assistant. 
Tanning sprays are also a great way to fix any tanning mistakes and top up an existing glow. At St.Tropez, all of our self tanning sprays and mists are proudly 100% clean, vegan friendly and formulated with natural tanning actives.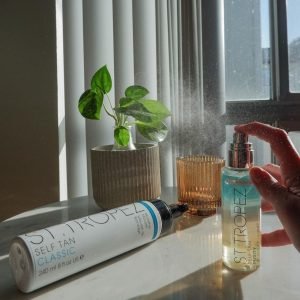 How to use tanning spray
Using a tanning spray couldn't be easier, and the method doesn't differ greatly from how you might apply your favourite mousse or lotion.
Step 1: Prep
We've said it before, and we'll say it again: the best tans are made in the prep. Create a smooth base by exfoliating the day before your at-home spray tan, and moisturize dry areas, such as the knees, elbows, hands, and feet, a few hours before you tan. 
Step 2: Spray
With your trusty tanning spray to hand, spritz evenly over the body. You may find it easier to start at the feet and work your way up so you don't miss any patches. Use our Luxe Applicator Mitt to buff the product in for a flawless finish. Our aerosol tanning sprays have a 360 degree nozzle, which means that you turn it upside down and tan those hard to reach areas! To tan your back, hold the spray nozzle over your shoulder and spritz downwards before buffing with your mitt. If you're new to tanning or a nervous tanner, we'd recommend using our tinted aerosol sprays. Those looking for a hydration and skincare boost should use try our Purity Vitamins Body Mist. It's enriched with Vitamin D boosters, so you can reap the benefits of sunshine without the harmful UV rays!
Step 3: Rinse
Advice here varies depending on your chosen self tanning spray, so always read the label to check. Our Classic and Dark tanning sprays should be rinsed after 4-8 hours to leave you with a beautiful glow. If using our Express Advanced Bronzing Mist, shower off after 1, 2 or 3 hours depending on your desired depth of tan. Finally, if you're using our Purity Vitamins Body or Purity Face tanning sprays, you don't need to rinse at all!
Step 4: Glow
After your tan has developed over a few hours, you'll be ready to glow. It really is as easy as that!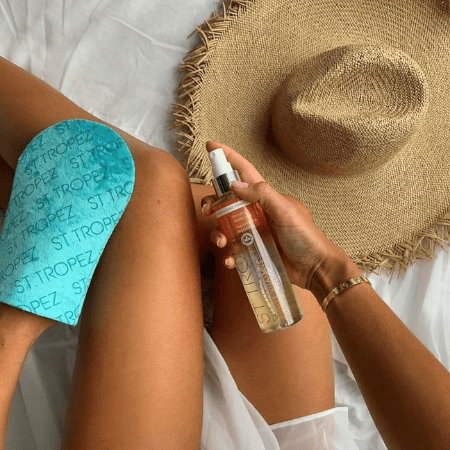 All about our favourite tanning sprays
With a self tanning spray to suit every skin tone, tanning preference and timescale, we've got something for everyone when it comes to our favorite glow-giving mists, so you really can set your own tone! 

Buy now
with St.Tropez


Our Self Tan Classic Mist boasts a tinted formula and a 360° spray nozzle for easy application. Quick-drying and non-sticky, it develops into a gorgeous medium golden tan over 4-8 hours, leaving you with a sunkissed glow that lasts all week long.