Few things make us feel as good as natural glowing skin. Whether you prefer a mousse, lotion or refreshing mist, finding the perfect natural self tanner for you will leave you glowing with confidence. With St.Tropez products, you can be sure that you'll always be flaunting your most natural fake tan, free from sulphates, unsafe synthetics and never tested on animals. 
About our natural fake tan
The best natural fake tan will leave you looking as though you've just stepped off the plane after 2 weeks in the sun (we won't tell if you don't). From the glow our self tanners give to the ingredients we use, we like to keep things natural at St.Tropez. Our products use up to 97% natural ingredients and are free from microbeads, parabens, sulphates, phthalates, and toxins for a truly natural tanning experience. We're dedicated to creating a sustainable glow, which is why our natural fake tans are… 
PETA certified Cruelty Free

 

100% vegan friendly

In recycled packaging, made from recycled materials (excluding pumps).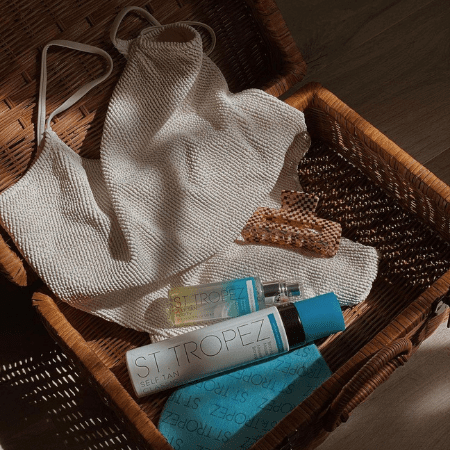 Find your favorite natural self tanner
Whether a tanning pro or a total novice, there's a natural self tanner to suit every glow-getter's needs. From mousses to mists, our guide is here to help you find the best natural fake tan for you.
$18.00 Buy now

with St.Tropez

Our St.Tropez Express Advanced Bronzing Mousse is the perfect natural self tanner when you're short on time or simply want to get glowing quickly! Apply as you would any tanning mousse and rinse after 1 hour for a sunkissed glow, 2 hours for a medium tan and 3 hours for a deep bronze. 100% clean, vegan friendly and with natural tanning actives, getting a speedy, natural-looking tan has never felt better. 

Buy now with free delivery