Wondering if self tanner is safe for pregnancy? You're not alone! Glow getters often ask us if they'll have to sacrifice their beautifully bronzed limbs while pregnant – but don't worry! With a pregnancy safe self tanner, you can maintain your golden glow right up to your due date and beyond. 
Can you use self tanner while pregnant?
So, is it safe to self tan while pregnant? There's no reason why you can't stay bronzed with a fake tan when you're expecting, though you may prefer to avoid getting a spray tan while pregnant (as the effects of inhaling the spray aren't fully known).
DHA, the active ingredient found in tanning products, reacts with the surface layer of skin to give you the golden glow you know and love. This reactions takes place on the outermost layers of your skin with no risk of absorption of DHA, making it perfectly safe to use self tanner while pregnant.
When our products are safety assessed, use during pregnancy is considered as part of the test, so you can rest assured that there's no reason to change your tanning products on the grounds of safety concerns when you're expecting. For anyone who is expecting and suffering from a pre-existing condition or health concern, we would advise that you consult your doctor before starting a tanning regime.
Above all, self tanning is about feeling your best, and a subtle glow can help to give you the confidence boost you need on days when you're feeling a little peaky.
Is skin more sensitive during pregnancy?
Due to the hormone changes that occur during pregnancy, you may find that your skin is more sensitive and susceptible to reactions, even with products that you've used before. This is usually due to fragrance rather than ingredients, but it's always best to patch test your self tanner on a small area of skin 24 hours before you tan.
Can you use self tanner while breastfeeding?
As DHA isn't absorbed by the body, there's no risk of it harming your baby or contaminating breastmilk, making it perfectly safe to use fake tan while breastfeeding. Just try to avoid tanning the breast area to avoid any guide color rubbing onto your baby's face or being swallowed.
How to choose a pregnancy safe self tanner
While it is totally safe to use any St.Tropez fake tan while pregnant, it's a good idea to opt for one of our extra moisturizing, skin-nourishing formulas. Keeping skin well moisturized is really important when you're pregnant, as it will keep your skin flexible, helping it to stretch as your baby bump grows.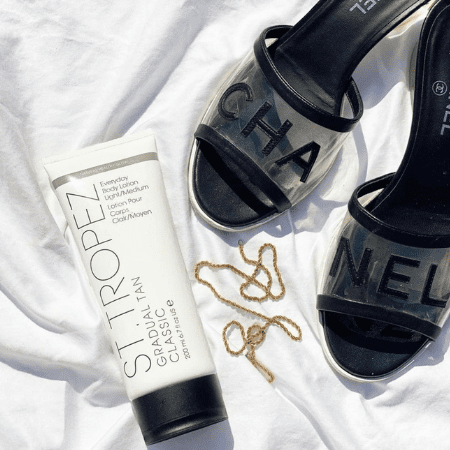 St.Tropez Gradual Tan Lotion
For a natural-looking, buildable glow, it's hard to beat our Gradual Tan Lotion. Ultra-hydrating and super easy to apply, this pregnancy safe self tanner delivers a 48 hour dose of moisture to help to keep your skin soft and supple.  
With its hydrating formula also available in Medium-Dark and Tinted lotions, we've made sure that you're in control of your own tone with our Gradual Tan. Simply reapply as often as desired to maintain your perfect shade! Our gradual lotion also makes a great self tanner for post-pregnancy. With no need to rinse, and easy to apply like a moisturizer, it's perfect for busy mums.